---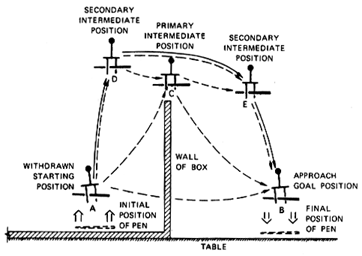 This diagram illustrates the main result from the president's 1981 thesis at Carnegie-Mellon, "A Supervisory Collision-Avoidance System for Robot Controllers". A full spatial virtual-reality model of a robot plus its surroundings is used to plan paths that avoid collisions. Although only the hand is shown here for clarity, the system works with the entire volume of a 6-jointed PUMA arm having rotational joints. The system consisted of three main layers. A spatial modeling system modeled where the arm was, along with obstacles and environmental objects to be manipulated. This modeling system layer was also augmented by a 3D graphics system, a user interface, and an animation system to drive the arm to selected poses and handle grasping and letting go of objects. On top of the modeling layer, a spatial collision-detection layer was implemented. This used a hierarchy of enclosing volumes to speed computation. Spheres, planes,cylinders, and blocks of any size and orientation were handled using special geometric formulae. This resulted in the ability to tell whether any parts of the arm (such as the wrist, the elbow, etc.) or the object the arm was holding were in collision with any parts of the environment, and if so, where.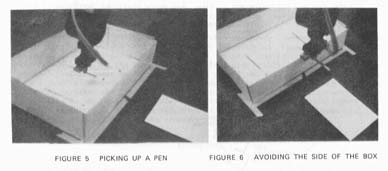 The third layer used the second layer to perform path planning ("collision avoidance") from a known start to a known goal position. The system proposed different trajectories and then checked them out with the collision detection system. Based on the results, the system kept planning paths until it was able to find one that worked. This was then sent to the physical robot for execution.
The system did not run merely in simulation, but was used to drive an actual robot. Collision detection and avoidance was also performed with premodeled objects that the robot grasped. Making sure that the robot avoids collisions is not enough; the software has to perform avoidance with what the robot is holding as well. More than 20 years later, this system is still cutting-edge research.